The dynamic nature of the Sun's corona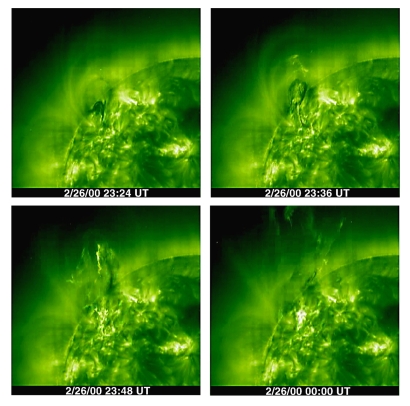 This sequence of images shows dramatic changes in the solar corona over a time interval of just over half an hour, while a Coronal Mass Ejection (CME) was taking place. CME are colossal eruptions that happen periodically and during which enormous amounts of gas are released from the Sun into outer space.
The images have been taken by SOHO's Extreme ultraviolet Imaging Telescope (EIT) at a wavelength of 195 Å, corresponding to the emission line of 11-times ionised iron atoms (Fe XII) and showing material at temperatures of about 1.5 million Kelvin.
This series of snapshots was taken between 26-27 February 2000.
Last Update: 22 September 2010