CHEOPS launch media kit
Publication date: 10 December 2019
Copyright: ESA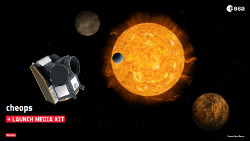 Download this interactive media kit to learn more about the launch of CHEOPS on 17 December 2019 and the science goals of the mission. CHEOPS, the CHaracterising ExOPlanet Satellite, is ESA's first mission dedicated to the study of exoplanets. It will observe bright stars that are already known to host planets, measuring minuscule brightness changes due to the planet's transit across the star's disc.
Update 20 Dec: A new version of the media kit was released containing the updated launch date, 18 December 2019, on p3 and p18. A typo was also corrected on p17.
Contents:
Introduction
Event programme
Key messages
CHEOPS science themes
CHEOPS: an exoplanet follow-up mission
Exoplanet detection methods
Exoplanets discoveries
Examples of planetary systems
Characterising exoplanets with CHEOPS
CHEOPS observing programmes
What are exoplanets made of?
Open questions: How do planets form?
Open questions: How do planets evolve?
High photometric stability and precision
Where is CHEOPS?
Launch details and timeline
CHEOPS team and consortium
Selected images
Selected videos
Media services
To download the pdf file (25 MB) click on the image or on the link to publication below.
Link to publication
Last Update: Dec 20, 2019 2:28:33 PM