ESA Summer Teachers Workshop 2015: apply now!
26 February 2015
This year ESA is organising another unique workshop dedicated to school teachers. The workshop will include an outstanding three-day programme, as well as a visit to one of ESA's establishments. The deadline for application is Friday 3 April 2015.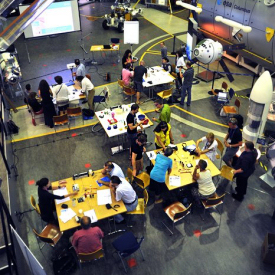 2014 Teachers Summer Workshop.
Credit: ESA
The workshop will take place from 8 to 10 July 2015 at ESA's European Space Research and Technology Centre (ESTEC) in Noordwijk, the Netherlands. It will be open to both primary and secondary school teachers of Science, Technology, Engineering and Mathematics (STEM) subjects residing and working in ESA Member and Cooperating States.
The space themes that will be covered during the workshop are:
Gravity
Rosetta, comets and the Solar System
Planet Earth
Light
Space exploration and human spaceflight
Articulated around these themes, the workshop programme is aimed at providing an inspirational professional development opportunity. It will feature key note speeches from top-level space experts, as well as practical sessions demonstrating how space can be used when teaching and learning STEM subjects.
Due to the increasing interest demonstrated by teachers in our previous editions, the number of participants this year has been increased to 120.
What to expect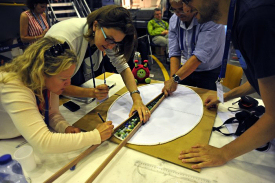 Teachers training on ESA Teach with Space resources. Credit: ESA
Inspiring visions of the far-off cosmos acquired by ESA missions have contributed to a change in the way humankind perceives the Universe and our place within it. Our understanding of our own world, its delicate ecosystems and its future, have all been revolutionised by taking a space-based perspective.
The knowledge required to conduct the exploration and study of space, as well as the new knowledge produced in this pioneering and cutting-edge process, touch all possible scientific and technical disciplines – from physics to mathematics, biology, chemistry, engineering, computer sciences, earth sciences, and so on. A space example can always be found for any STEM curricular subject!
This is why using space as a context for teaching STEM subjects is at the core of ESA's Education programme and of this workshop. Participants will attend plenary sessions hosted by the scientists and engineers working on ESA's exciting space endeavours, who will set the scenery and give an insight into the latest ESA missions and cutting-edge space research.
Primary and secondary school teachers will have the opportunity to follow separate practical sessions dedicated to their respective target age-groups of students, where they will explore and discuss experiments and demonstrations that can be used in the classroom. Whether teachers are already using space as a thematic approach or not, ESA has developed many resources that will be showcased in this workshop.
In addition, participants will have the opportunity to network with peers and experts in education from across Europe.
Who can apply?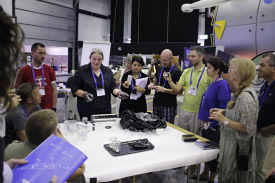 Demonstration of ESA Teach with Space resources. Credit: ESA
The workshop is open to primary and secondary school teachers of STEM-related subjects residing and working within any of the ESA Member States and Cooperating Countries*.
Please note that priority will be given to teachers who have not participated in ESA's previous teacher workshops.
The working language of the workshop will be English. Therefore, the workshop is only open to participants who master the language. Follow this link if you want to make a self-assessment of your English level.
How and when to apply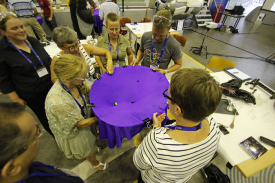 Physics activity during 2014 Teachers Summer Workshop. Credit: ESA
Teachers wishing to participate in the workshop should complete the online application form. As part of the application process, they should briefly describe why they would like to attend the workshop. Teachers will be selected to attend the workshop based on the information provided in the online application form. It is mandatory to complete all the fields of the online application form.
The deadline for receipt of applications is 3 April 2015, 12:00 CEST (10:00 GMT). Successful applicants will be informed that they have secured a place at the workshop on or before 16 April 2015.
Workshop details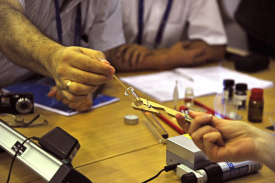 Practical session on chemistry. Credit: ESA
The workshop will take place at ESTEC, ESA's largest establishment located in Noordwijk, the Netherlands. It will begin at 08.30 on Wednesday 8 July and will conclude at 16:00 on Friday 10 July 2015.
Participants will be collected by buses each day from dedicated locations in Noordwijk, as entry to ESTEC is strictly controlled via a security gate. Transport back to the same locations in Noordwijk at the end of the first two days will also be organised by ESA.
Attendance to the entire workshop is mandatory. Participants are encouraged to bring their personal laptops. Free internet access will be organised on location.
Sponsorship and costs
There is no fee to participate in the workshop. ESA will arrange and sponsor the costs of local transport from Noordwijk to/from ESTEC, lunch and refreshments for all selected participants during the workshop, as well as one social dinner. Please note that transport back to the hotel or airport on Friday afternoon will not be covered by ESA.
Participants are expected to cover the full cost of their travel to and from the Netherlands, their hotel accommodation and the cost of evening meals, with the exception of the social dinner offered by ESA.
* ESA Member States in February 2015
Austria, Belgium, Czech Republic, Denmark, Estonia, Finland, France, Germany, Greece, Hungary, Ireland, Italy, Luxembourg, the Netherlands, Norway, Portugal, Poland, Romania, Spain, Sweden, Switzerland, United Kingdom. 
Cooperating States 
Canada, Latvia and Slovenia.
Originally published on ESA's Education website
Last Update: 1 September 2019