Inspiring European teachers to bring space in the classroom
15 July 2015
From 8 to 10 July, more than 100 primary and secondary school teachers from 18 ESA Member States took part in the ESA Summer Teachers Workshop at ESA's Space Research and Technology Centre (ESTEC) in Noordwijk, the Netherlands, where they learned how to use space as a context to teach STEM subjects in their classrooms.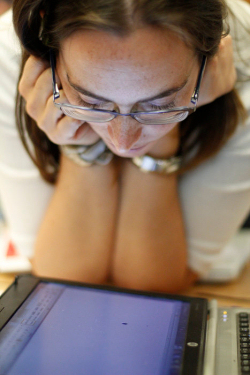 Primary teacher experimenting light and dark. Credit: ESA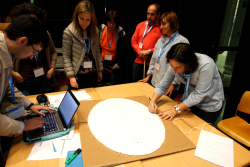 Secondary teachers building ellipses. Credit: ESA
For the first time since its existence, the workshop was for primary as well as secondary school teachers, with practical sessions tailored to both groups. The intense programme focused on 5 central themes: Gravity, the Solar System, Earth observation, light, and human spaceflight. Developed around these broad themes, the workshop provided teachers with inspirational and motivational tools to use when teaching their STEM-related subjects.  
"I intend on using a very big amount of what I've been able to experiment with my students. All the themes covered up to now are linked directly to the science we are exploring in my classroom. The accessible material used and the fun way to present all the experiments and activities to my students will inspire them and make them ask for more and more!" said Alexandra Politi, a Greek teacher working in the UK.
Top level space experts were present at the workshop, such as ESA astronaut André Kuipers, Rosetta Project Scientist Matt Taylor, award-winning solar astrophysicist Pål Brekke, and ESA Copernicus Space Segment Manager Guido Levrini. Teachers were given unprecedented access to inside information from the people directly involved in the various space projects. They also had the opportunity to ask questions and exchange a few words with these top scientists.
Presenters were also impressed by the keen interest shown by their audience, and recognised the importance of teachers in encouraging students to pursue science and technology related studies and careers.
One teacher said: "I love science and teaching space, and next year I will be teaching in a junior school (4 to 8 years old), so was unsure about how to introduce space concepts to such a young age group. However, the ideas and concepts we touched on at the workshop were just fantastic, and I'm really looking forward to bringing these ideas into my classroom in September."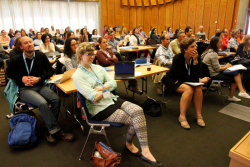 Teachers listening to a talk about the Rosetta mission. Credit: ESA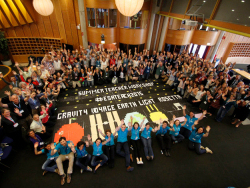 Group picture after the ice breaker activity. Credit: ESA
More than 15 practical sessions demonstrated how space can be used when teaching and learning STEM subjects. One of the teachers summarised her experience: "I loved the enthusiasm of all the people involved. All the speakers were enthusiastic about what they were presenting. I also like the fact that the instructors showed interest towards their audience, and that they took the time to answer each individual question. Before coming here, I did not expect to be treated as a very important person. Being told that primary school teachers are crucial in motivating children to study science and do research was really beautiful. Thank you!"
Teachers left the workshop more confident and enthusiastic about teaching STEM-related subjects. "I now have more confidence and knowledge to try new experiences and improve educational methodologies in the classroom," wrote one of the teachers in the evaluation survey.
The role of the national ESERO offices was highlighted during the workshop. As ESA's operating hands on a national level, they offer resources and advice to teachers who want to use space as an exciting and inspirational context in their daily teaching.
ESA, through its programmes and the Education Office, is here to make sure space brings value to citizens and inspiration for the generations to come.
Originally published on ESA's Education website
Last Update: 1 September 2019