ESA/GTTP Teacher Training Workshop 2015 - apply now
28 July 2015
ESA is once again organising a training workshop for science teachers in association with the Galileo Teacher Training Programme (GTTP). The sixth in a series of training workshops, the ESA/GTTP Teacher Training Workshop will be held at the European Space Research and Technology Centre (ESTEC) in Noordwijk, the Netherlands, between 23 and 27 November, 2015. The deadline for receipt of applications is 09:00 CEST on 21 September 2015.
What to expect
Participants at this workshop will have the chance to explore innovative ways to use space science and astronomy in the classroom to engage students in the sciences. Teachers attending will be presented with a diverse workshop programme consisting of practical sessions, and lectures from ESA experts. Cosmic light will be one of the main topics this year in celebration of the International Year of Light. Participants will also find out more about ESA Education activities and resources, as well as the latest from ESA space science and astronomy missions. In addition, participants will have the opportunity to network with their peers from across Europe.
Apply now -
limited number of places available
The workshop is limited to 20 places. Teachers wishing to apply should complete the online application form that can be found on the workshop website. Teachers will be selected to attend the workshop based on the information provided in their application form.
The deadline for receipt of applications is 09:00 CEST on 21 September 2015.
Successful applicants will be informed that they have secured a place at the workshop on or before 25 September 2015.
Who can apply?
The workshop is open to teachers (of students between 12 and 18 years of age) of the physical sciences in secondary schools within ESA Member States and Cooperating States*. Please note that priority will be given to teachers who have not participated in previous ESA teacher workshops.
Following their participation, selected teachers will be asked to carry out all of the activities listed below.
Demonstrate active dissemination of knowledge acquired at the workshop by organising at least two workshops for other teachers (the first should take place within 6 months of the ESA workshop).
Take action to promote ESA education resources, for example, at teacher conferences, to other schools, through publication of articles in journals, newsletters, blogs, websites etc.
Complete a dissemination report issued by ESA, once after four months and again one year after the workshop, reporting on the actions taken in points 1 and 2 above.
Workshop details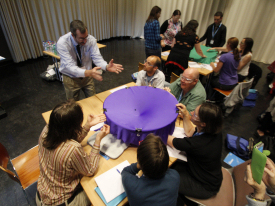 2015 Summer Teachers Workshop.
Credit: ESA/A.Conigli - CC BY-SA IGO 3.0
The workshop will start at 13:30 CET on Monday 23 November and finish at 16:00 CET on Friday 27 November.
The working language of the workshop will be English; participants must have a sufficient command of the language to be able to fully participate in all sessions of the workshop.
Attendance at the entire workshop is mandatory. Participants are encouraged to bring their personal laptops; internet access will be organised at the workshop location.
Sponsorship and costs
There is no fee to participate in the workshop. ESA will arrange and sponsor the costs of hotel accommodation, local transport from Noordwijk to/from ESTEC, lunches and refreshments for all selected participants during the workshop, as well as one social dinner. In addition, up to 200 euro per selected participant will be available towards travel expenses and will be reimbursed after the workshop. Participants are expected to cover the costs of evening meals, with the exception of the social dinner.
* ESA Member States: Austria, Belgium, Czech Republic, Denmark, Estonia, Finland, France, Germany, Greece, Hungary, Ireland, Italy, Luxembourg, the Netherlands, Norway, Portugal, Poland, Romania, Spain, Sweden, Switzerland, United Kingdom.
European Cooperating States
Bulgaria, Latvia, Lithuania, Slovakia and Slovenia 
Cooperating States 
Cyprus, Malta 
 
Contact
Maria Cruz
Communications, Outreach and Education Group,
Directorate of Science and Robotic Exploration, ESA
Email: SciEdu

esa.int
Last Update: 1 September 2019