Application to the ESA teachers' summer workshop 2016 now open
18 March 2016
This year ESA is organising another summer workshop dedicated to European school teachers. It will take place from 6 to 8 July 2016 at ESA's European Space Research and Technology Centre (ESTEC) in Noordwijk, the Netherlands.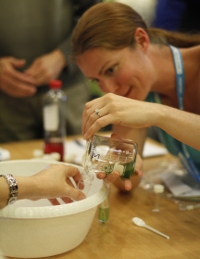 Teacher performing experiment with spirulina cells.
Credit: ESA/A.Conigli
Participation is open to both primary and secondary school teachers of Sciences, Technology, Engineering and Mathematics (STEM) subjects residing and working in ESA Member and Cooperating States.
The space themes linked to ESA Missions, that will be covered during the workshop are:
- Earth Observation
- Satellites and Rockets
- Space Exploration
Built around these themes, the workshop programme is aimed at providing an inspirational professional development opportunity. It features keynote speeches from top-level space experts, as well as practical sessions demonstrating how space can be used for teaching and learning STEM subjects.
Who can apply?
The workshop is open to primary and secondary school teachers of STEM-related subjects residing and working within any of the ESA Member States and Cooperating States *.
Please note that priority will be given to teachers who have not participated in a previous ESA teachers workshop.
How and when to apply
Teachers wishing to participate in the workshop should complete the application form. Teachers are selected based on the information provided. It is mandatory to complete all the fields of the online form.
The deadline for receipt of applications is 18 April 2016, 09:00 CEST. Successful applicants will be informed about a place at the workshop before 26 April 2016.
What to expect
Primary and secondary school teachers will have the opportunity to follow practical sessions dedicated to their respective age groups of students.
Inspired by real/actual ESA missions, participants will get ideas and training on how to improve their lessons so that students become more excited about science and technology. During the practical sessions they will explore and discuss classroom experiments and demonstrations. ESA in collaboration with its ESERO network in Europe has developed many didactic resources that will be showcased at this workshop.
In addition, participants will have the opportunity to network with peers and experts in education from across Europe.
Workshop details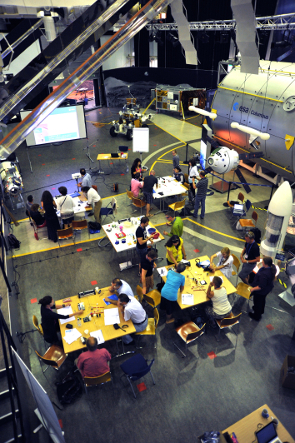 Teachers' Summer Workshop 2014.
Credit: ESA
The workshop will take place at ESTEC, ESA's largest establishment located in Noordwijk, the Netherlands. It will begin at 09:00 CEST on Wednesday 6 July and will conclude at 16:30 CEST on Friday 8 July 2016.
Attendance to the entire workshop is mandatory. Participants are encouraged to bring their personal laptops. Free internet access will be organised on location.
The working language of the workshop will be English. Therefore, the workshop is only open to  participants who have proficient knowledge of the language.
Follow this link if you want to make a self-assessment of your English level.
Sponsorship and costs
There is no fee to participate in the workshop. ESA will arrange and sponsor the cost of local transport between the hotels in Noordwijk and ESTEC, lunch and refreshments for all participants during the workshop, as well as one social dinner.
Please note that transport back to the hotel or airport on the final Friday afternoon is not covered by ESA.
Participants are expected to cover the full cost of their travel to and from the Netherlands, their hotel accommodation and the cost of evening meals, with the exception of one social dinner offered by ESA.
*ESA Member States in March 2016
Austria, Belgium, Czech Republic, Denmark, Estonia, Finland, France, Germany, Greece, Hungary, Ireland, Italy, Luxembourg, the Netherlands, Norway, Portugal, Poland, Romania, Spain, Sweden, Switzerland, United Kingdom.
Cooperating States
Canada, Bulgaria, Cyprus, Latvia, Lithuania, Malta, Slovakia and Slovenia.
Last Update: 1 September 2019