Installing Gaia's Deployable Sunshield Assembly at Kourou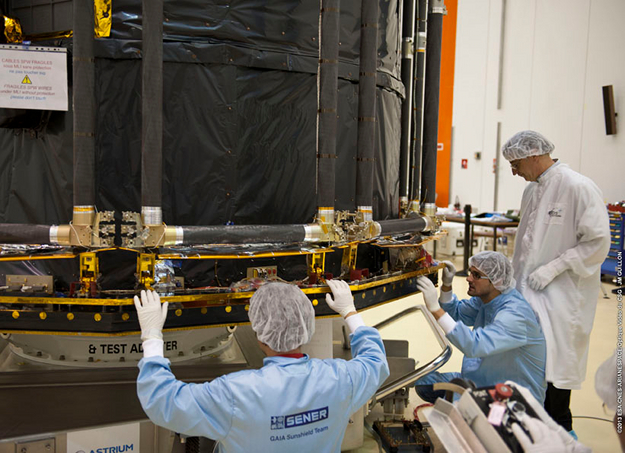 Engineers from SENER and Astrium install the Deployable Sunshield Assembly (DSA) onto Gaia in the S1B cleanroom at the Centre Spatial Guyanais in Kourou, French Guiana.
The Gaia spacecraft was flown on an Antonov transport plane from Toulouse Blagnac airport in France to Félix Eboué airport in French Guiana on 23 August 2013. The DSA arrived five days later.
Prior to transport, the multi-layer insulation (MLI) of the DSA had been removed for inspection and storage.
The long poles or "arms", seen in this photograph, are the skeleton of the DSA. This structure is made up of 12 frames of carbon fibre tubes, split into 4 quarters of 3 frames each. Each quarter has to be lifted with an overhead crane from its transport frame, smoothly placed on the spacecraft, and carefully aligned before it is fastened in its final position. Each of the 12 frames is hinged at 2 points at its base, where it is attached to the spacecraft, and can be deployed 90 degrees. Here, the engineers are checking that the quarter is correctly placed on the spacecraft as the crane operator lowers it very slowly to its final position.
The Prime Contractor for Gaia is Astrium SAS, based in Toulouse, France. SENER (Spain) is responsible for the development and manufacture of the Deployable Sunshield Assembly. The thermal blankets are provided by RUAG Aerospace Austria and the carbon fibre frames come from RUAG Aerospace Switzerland.
Last Update: 1 September 2019