Industrial Team
Herschel was designed and built in a joint industrial programme with Planck, ESA's mission to study the cosmic microwave background radiation. The two satellites share more than just the launch: they have been implemented in a joint development process aimed at optimising resources by using a single ESA team interfacing to a single prime contractor and industrial team, and sharing design of spacecraft components whenever possible.
ESA's prime contractor for Herschel was Thales Alenia Space (Cannes, France), which led a consortium of industrial partners with Astrium (Friedrichshafen, Germany) responsible for the payload module, and the Thales Alenia Space industry branch (Turin, Italy) responsible for the service module. Astrium (Toulouse, France) provided the telescope. There was also more than 100 subcontractors spread throughout Europe.
Below is a list of the industrial team that built the Herschel spacecraft, arranged by country and company name.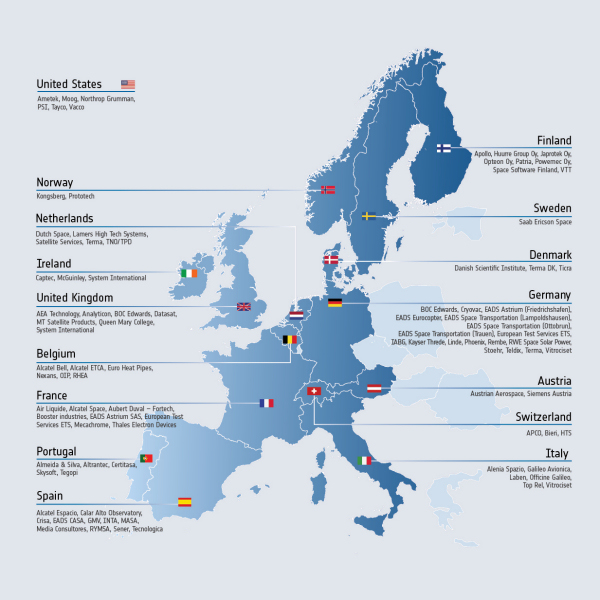 Map of industry involvement in Herschel. Credit: ESA
| | |
| --- | --- |
| |   Austria |
Austrian Aerospace

Attitude Control Computer - Input/output boards and test equipment

Service Module - Mechanical Ground Support Equipment

Thermal Control - Multi Layer Insulation

Cryostat - Cover, Test Cavity

Cryostat - Multi Layer Insulation

Siemens Austria

Central Check-Out System - Software

Power & Telemetry Special Check-out Equipment
Tracking Control Special Check-out Equipment
| | |
| --- | --- |
| |   Belgium |
Alcatel Bell

Cryogenics Special Check-out Equipment

Alcatel ETCA

Power Conditioning & Distribution Unit
Travelling Wave Tube Assembly

Euro Heat Pipes

Service Module - Heat Pipes

Nexans

Service Module - Harness

OIP

Video Monitoring Camera

RHEA

Mission Operations Information System
| | |
| --- | --- |
| |   Denmark |
Danish Scientific Institute

Thermal Shields - Mechanical tests

Terma DK

Attitude Control and Measurement System - Application Software

Software Validation Facility

Central Check-out System - Testing and Integration Support

Payload Module - Assembly, Integration and Testing - Technical support

Ticra

Radio Frequency Expertise
| | |
| --- | --- |
| |   Finland |
| | |
| --- | --- |
| Apollo | Solar Array - Brackets |
| Huurre Group Oy | Thermal Shields - Clean room for assembly |
| Japrotek Oy | Helium Tanks - Test cryostat vessel with equipment |
| Opteon Oy | Telescope - lapsing and polishing of primary mirror |
| Patria | Cryostat Control Unit |
| Powemec Oy | Thermal Shields - Welding Machinery |
| Space Software Finland | Central Data Management Unit - Application Software |
| VTT | Radio Frequency Suitcase |
| | |
| --- | --- |
| |   France |
Air Liquide

Cryostat Vacuum Vessel - Welding

Helium Tanks

Herschel Optical Bench Assembly - Thermal Links

System Tubing

Thermal Shields

Alcatel Space

Herschel / Planck Mission - Prime Contractor

Aubert Duval - Fortech

Reaction Control System - Hydrazine Tanks Shell Forgings

Boostec Industries

Telescope Reflectors and Hexapod - Silicon carbide component manufacture

EADS Astrium SAS

Telescope

European Test Services ETS

Service Module - Environmental Tests

Payload Module - Testing

Mecachrome

Reaction Control System - Hydrazine Tanks - Shell machining

Thales Electron Devices

Travelling Wave Tube Assembly - Travelling Wave Tube
| | |
| --- | --- |
| |   Germany |
BOC Edwards

Cryogenic Vacuum Support Equipment - Refurbishment

Cryovac

Cryogenic Components - Test Cryostat

EADS Astrium (Friedrichshafen)

Cryo Harness - External harness

Extended Payload Module - Prime Contractor

EADS Eurocopter

Tank Support System - Straps

EADS Space Transportation (Lampoldshausen)

Reaction Control System

EADS Space Transportation (Ottobrun)

Tank Support System - Strap pre-tensioning device manufacture

ISO Qualification Model tubing modification

Liquid Helium Valves

EADS Space Transportation (Trauen)

Reaction Control System - Hydrazine tanks diaphragm material testing

European Test Services ETS

Service Module - Environmental Tests

Payload Module - Testing

IABG

Solar Array - Photovoltaic Assembly Testing

Kayser Threde

Mass and Thermal Dummies for Cold Components - Sensors

Service Module - Harness - Test and avionics model

Linde

Helium System Components

Phoenix

Cryostat Components - Inner Safety Valves

Rembe

Cryostat Components - Rupture Disks

RWE Space Solar Power

Solar Array - Photovoltaic Assembly Cells

Stoehr

Cryostat Components - Vacuum Port Safety Valves

Teldix

Attitude Control and Measurement System - Reaction Wheel Subsystem

Terma

Central Check-out System - Technical Support

Vitrociset

Central Check-out System : Software

Zeiss

Telescope - polishing of secondary mirror
| | |
| --- | --- |
| |   Ireland |
| | |
| --- | --- |
| Captec | Independent Software Validation & Verification |
| McGuinley | Product Assurance Support |
| System International | Service Module - Engineering Support |
| | |
| --- | --- |
| |   Italy |
| | |
| --- | --- |
| Alenia Spazio | Service Module - Prime Contractor |
| Galileo Avionica | Solar Array - Photovoltaic Assembly |
| Laben | Attitude Control and Measurement System - Coarse Rate Sensor |
| Officine Galileo | Attitude Control and Measurement System - Star Tracker |
| Top Rel | Parts Procurement Co-agent |
| Vitrociset | Central Check-out System - Software |
| | |
| --- | --- |
| |   Norway |
Kongsberg

Solar Array - Substrates

Prototech

Mass & Thermal Dummies for Warm Components

Mass and Thermal Dummies for Cold Components
| | |
| --- | --- |
| |   Netherlands |
Dutch Space

Attitude Control and Measurement System

Solar Array

Lamers High Tech Systems

Herschel System Tubing

Satellite Services

Payload Module EGSE - Central Data Management Unit Special Check-out Equipment

Power and Telemetry Special Check-out Equipment - Data front end
Tracking Control Special Check-out Equipment - Data front end

Terma

Central Check-out System

TNO / TPD

Attitude Anomaly Detector
Sun Acquisition Sensor
| | |
| --- | --- |
| |   Portugal |
| | |
| --- | --- |
| Almeida & Silva | Spacecraft Mechanical Ground Support Equipment - Materials & dummies |
| Altrantec | Thermal Analysis Support |
| Certitasa | Spacecraft Mechanical Ground Support Equipment - Materials |
| Skysoft | Project Office Support |
| Tegopi | Spacecraft Mechanical Ground Support Equipment - Materials |
| | |
| --- | --- |
| |   Spain |
Alcatel Espacio

Radio Frequency Distribution Network
X-Band Transponder

Calar Alto Observatory

Telescope - coating of both mirrors

Crisa

DC/DC converter for the X-Band transponder
PACS Signal Processing Units
PACS DEC/MEC CPU Module

EADS CASA

Service Module Shield
Payload Module to Service Module support structures

Service Module - Structures

Cryostat - Electrical harness

GMV

System Database

INTA

Satellite Radio Frequency Mock-up and Test - Technical support

MASA

Helium Tanks - Intermediate bulkhead machining & welding, mock-up machining

Media Consultores

Helium Tanks - Analysis support

Thermal Shields - Studies and analysis

RYMSA

Low Gain Antenna (LGA)
Medium Gain Antenna (MGA)

Spacecraft Radio Frequency Mock-up and Test

Payload Module - Waveguides

Sener

Attitude Control and Measurement System

Optical Bench Assembly

Tecnologica

Parts Procurement Agent
| | |
| --- | --- |
| |   Sweden |
| | |
| --- | --- |
| Saab Ericson Space | Attitude Control Computer - Central data management unit and basic software |
| | |
| --- | --- |
| |   Switzerland |
APCO

Cryostat - Vacuum Vessel

Helium Two Tank - Containers and Nastran models

Mass and thermal dummies for cold components

Payload Module - Mechanical Ground Support Equipment refurbishment

Spacecraft - Mechanical Ground Support Equipment

Bieri

Qualification Model Tank

HTS

Payload Module - Spatial Framework
| | |
| --- | --- |
| |   United Kingdom |
| | |
| --- | --- |
| AEA Technology | Batteries |
| Analyticon | Attitude Control Management System - Simulations |
| BOC Edwards | Cryogenic Vacuum Support Equipment - Refurbishment |
| Datasat | Electrical Engineering Support |
| MT Satellite Products | Reaction Control System - Hydrazine Tanks |
| Queen Mary College | Optical Windows |
| System International | Service Module - Engineering Support |
| | |
| --- | --- |
| |   United States |
| | |
| --- | --- |
| Ametek | Reaction Control System - Latch Valves |
| Moog | Reaction Control System - Pressure Transducer |
| Northrop Grumman | Attitude Control Management System - Gyroscope |
| PSI | Reaction Control System - Hydrazine Tanks Diaphragms |
| Tayco | Reaction Control System - Flow Control Valves |
| Vacco | Reaction Control System - Filters |
Last Update: 1 September 2019