Calling all artists: apply now for art and science residency
20 April 2016
ESA, in partnership with Ars Electronica, is announcing art&science@ESA, a new art residency to explore the fertile ground between art and space science.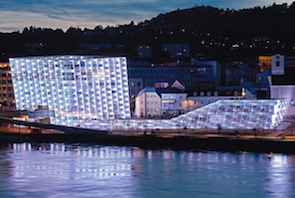 The Ars Electronica Center in Linz, Austria. Credit: N. Ferrando & L. Lammerhuber
Art and scientific research are often driven by a similar spirit: investigating the nature of our being in the world, pushing boundaries in knowledge and technology, venturing into the domain of the unexplored.

Space science operates at the forefront of exploration, either by scrutinising the distant Universe with telescopes or by visiting our immediate cosmic neighbourhood.

The questions pursued by these studies naturally provide inspiration for artistic inquiry, which in turn can offer a fresh perspective on the scientific endeavour.

Artists interested in interdisciplinary research bridging these two domains are invited to submit applications for the art&science@ESA residency, part of which will be hosted at ESA's ESTEC technical heart in Noordwijk, the Netherlands.

This competition is open to artists to propose innovative concepts and ideas in art and technology. The wide range of disciplines that can be considered include interactive art, digital music and sound art; computer animation, film, and visual effects, digital communities and social media, hybrid art, performance and choreography, and digital design.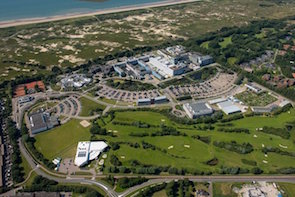 The European Space Technology and Research Centre (ESTEC) in Noordwijk, The Netherlands

. Credit: ESA-Anneke Le Floc'h
The winning artist will first spend 2–6 weeks at ESTEC to  become acquainted with ESA's space science programme and interact with one or more scientific mentors, chosen on the basis of the art project's focus.

The second part will be a month with the Futurelab team and another mentor at Ars Electronica in Linz, Austria, where the winner will develop and create new work inspired by their ESA residency.

To be considered for this opportunity, artists are invited to submit a short video introducing themselves and describing the themes they would like to investigate during their residency at ESA. In addition, they should outline a possible concept and plan for the artwork they would like to create.

The call opens for entries on 20 April and closes at 23:59 CEST (21:59 GMT) on 6 June. The winning artist will be selected by an international jury that includes representatives from ESA, Ars Electronica and Futurelab, and members of the European Digital Art and Science Network.

"Ultimately, science and art are different manifestations of the same human urge to enquire, explore, and understand our place in the Universe," says Mark McCaughrean, Senior Science Advisor in ESA's Directorate of Science.

"In recent years, we've enjoyed working with artists, musicians, and other creative individuals inspired by our missions to help open wider engagement with the public, and this exciting collaboration with Ars Electronica will take things to the next level."
More information
Ars Electronica is a cultural institution working on the intersection between art, technology and society. It was founded in 1979 and is based in Linz, Austria.

Artists above the age of 18 from all countries are invited to apply to the art&science@ESA residency via the Ars Electronica website. The winning artist is subject to obtaining clearance to work at ESTEC.

The residency is part of the European Digital Art and Science Network initiated by Ars Electronica and seven cultural partners (Center for the Promotion of Science, Serbia; DIG Gallery, Slovakia; Zaragoza City of Knowledge Foundation, Spain; Kapelica Gallery/Kersnikova, Slovenia; GV Art, UK; Laboral, Spain; and Science Gallery, Ireland) with the support of the EU's Creative Europe programme.
For more information, please contact:
Markus Bauer 



ESA Science and Robotic Exploration Communication Officer




Tel: +31 71 565 6799





Mob: +31 61 594 3 954





Email: markus.bauer

esa.int




Tina Reinthaler                         
Ars Electronica Linz GmbH
Linz, Austria
Tel: +43 732 7272 783
Email: tina.reinthaler

aec.at
Last Update: 1 September 2019