#1: Arriving in Kourou
9 October 2015
This is the first entry in the LISA Pathfinder launch campaign journal series. Between now and launch, the LISA Pathfinder team at Kourou will share their experiences as they prepare for that big event. Today's contribution is from the project manager, César García Marirrodriga.
For the crew, including six colleagues from Airbus Defence and Space (ADS) and ESA, the trip had been an endurance test of twenty hours of confinement. When they emerged from the plane they were tired, stiff, but very happy; they are now known as "the Antonov Six"!
Left: The Antonov An-124 cargo airplane on which LISA Pathfinder was transported to French Guiana. Right: LISA Pathfinder transport container being unloaded at Cayenne airport.
Credit: ESA - C. García Marirrodriga
By seven am, when the tail-gates of the plane were open exposing the LPF transport container, the crane was ready and the truck was reversing into position, rain joined the party. It was a thick, heavy, persistent tropical rain. Within five minutes all of us were soaking wet, but nobody looked for shelter, least of all the hardy Antonov Six: all hands and eyes remained on the precious cargo.
Two hours later, once the power supply for the environmental control was connected, we were happy to see the trailer with LPF driving away. Luckily (if luck plays a part), the transport container was well prepared for the weather conditions: it had been tested against rain and in addition it's covered with a rainproof tarpaulin.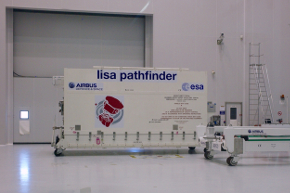 LISA Pathfinder transport container in a preparation room at the launch site, prior to unpacking. Credit: ESA - C. García Marirrodriga
From the airport to the launch preparation site is only a 60-kilometre drive, but the convoy speed is limited to 50 km/h. The local population is well used to these "convoi exceptionnel" caravans: Kourou is Europe's spaceport, and that means a lot of spacecraft on the road.
On arrival at the Centre Spatial Guyanais (CGS) - the space centre - the ADS crew tended to the LPF container. They removed the tarpaulin, cleaned the container and moved it inside the S5C preparation facility. While LPF seemed to start a quiet one-day sleep, the Antonov Six and the rest of the team went on to open the accompanying containers and boxes.
I hope that you will stay tuned for more updates from the crew here at Kourou, as we prepare for the launch.
César García Marirrodriga
8 October 2015
Kourou, French Guiana
Last Update: 1 September 2019