Fact Sheet
SOHO (SOlar Heliospheric Observatory) is a space-based observatory, viewing and investigating the Sun from its deep core, through its outer atmosphere - the corona - and the domain of the solar wind, out to a distance ten times beyond the Earth's orbit.
Latest Announcements
Latest Announcements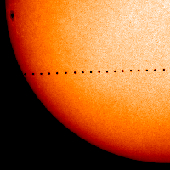 9 May 2016
Skywatchers throughout most of the world can today catch a glimpse of Mercury as it passes between Earth and the Sun in a rare astronomical event known as a planetary transit. Mercury will appear as a tiny black dot as it glides in front of the Sun's blazing disc over a period of seven and a half hours. The ESA/NASA SOHO spacecraft will see the...