SMART-1 Mission to the Moon: Technology and Science Goals
D-CIXS
The D-CIXS experiment deploys a new X-ray spectrometer as well as a solar X-ray monitor (XSM). D-CIXS' collimator and advanced Swept Charge Device (SCD) permits high sensitivity. D-CIXS lunar studies will be applied to the refinement of bulk crustal composition estimates, bearing on theories of the origin and evolution of the Moon, the characterisation of the lunar crusts, the study of South Pole-Aitken Basin (SPA) and other lunar basins, and the mapping of potential lunar resources (Table 3). D-CIXS science aims at providing a 50 km resolution map of absolute abundances of Mg, Si, Al (Grande et al 2002, 2003, Dunkin et al 2003).

PI: M.Grande (RAL), co-I's UK, FIN, F, E, S, ESA
- Demonstration of a compact X-ray imaging spectrometer (12 x 32 deg FOV)
- Global mapping of the lunar surface (elemental composition) via X-ray fluorescence
- X-ray celestial sources, Earth aurora and magnetotail
- New technologies: Micro-structure collimator
- Swept Charge Devices (Detectors) 0.5 - 10 keV
XSM - PI: J. Huovelin (Obs. Helsinki - FIN)
- Si-pin detectors 104° FOV; range: 0.8-20 keV
- Solar X-ray flares and coronal monitoring (calibration)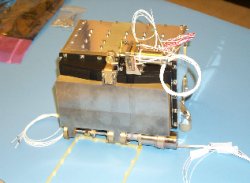 Bulk crustal composition has bearing on theories of origin and evolution of the Moon. D-CIXS will produce the first global view of the lunar surface in X-ray fluorescence (XRF), elemental abundances of Fe, Mg, Al and Si (and Fe plus others if solar activity permits) across the whole Moon. For some local areas mapped at times of solar flares, D-CIXS will have the sensitivity to measure Fe fluorescence. Otherwise, for comparison with global Fe maps, we shall use Fe data from Lunar Prospector (Lawrence et al 2002). The South Pole-Aitken Basin (SPA) and large lunar impact basins will be also mapped with D-CIXS. These will be the first XRF measurements of the lunar surface since the Apollo 15 and 16 missions, which covered just 9% of the Moon and were restricted to equatorial regions (Figure 13, Clark and Adler, 1978). More importantly, rather than the elemental ratios derived from the Apollo measurements, D-CIXS will derive absolute elemental abundances, by measuring (with X-ray Solar Monitor XSM) the incident solar spectrum that causes the lunar surface to fluoresce in X-rays.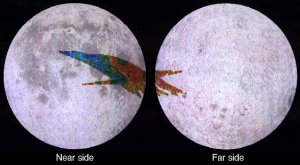 D-CIXS will provide a global distribution of Mg and permit the production of global magnesium numbers (Mg# = Mg/Mg+Fe). The mapping of Mg# = Mg/Mg+Fe is a key to study the evidence of a primitive source, the relations of Mg-suite rocks vs ferroan anorthosites or KREEP, and the constraints on the magma ocean model/ evolution. Although geochemical studies show the Mg-suite appears to have originated from both primitive and evolved sources, recent work by Shearer and Papike (1999) suggests that the Mg# is the only attribute to show evidence of a primitive source. All other elements suggest the rocks to have formed from evolved magmas.
A number of petrogenetic models that could produce this dichotomy in Mg-suite rocks were presented that range from an impact origin to the remelting of a magma ocean or cumulate pile (Shearer and Papike, 1999). A magma ocean model will produce Mg-suite rocks that exhibit specific relations to other rock types, perhaps displaying an association with ferroan anorthosites or KREEP materials, so a D-CIXS' more comprehensive characterisation of these Mg# will aid estimates of bulk crustal composition and theories for the evolution of the lunar crust, which in turn. D-CIXS will help to address this critical issue to models of the thermal and physical evolution of the Moon.
Last Update: 02 June 2004