ESA once again brings European teachers to 'space classrooms' at ESTEC
13 July 2016
Last week, 80 European teachers had the opportunity to attend a special workshop that highlighted the major areas of space science and technology. These teachers now have an important mission - to bring this information back into the classroom, where it will help them teach and inspire the next generation of scientists and engineers across Europe.
Between 6 and 8 July, primary and secondary school teachers from 19 ESA member states as well as Bulgaria, an ESA cooperating state, gathered at ESA's Science and Technology Centre (ESTEC) in the Netherlands for ESA's annual Summer Teachers' Workshop.
For three full days they listened to expert lectures and took part in practical sessions covering Earth observation, space science and exploration, human spaceflight, and launchers. They learned about space, and more specifically about how space resources can be used as a context in the classroom to teach a wide variety of STEM (science, technology, engineering and mathematics) subjects.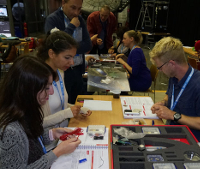 Primary school teachers testing the spacecraft materials kit. Credit: ESA
"The Summer Teachers' Workshop is an excellent way for ESA to connect with teachers directly, and through them reach hundreds and eventually thousands of school students and show them the value of space," says Monica Talevi, Head of ESA's STEM Education and Outreach Unit. "We provide them with concrete classroom activities which can be repeated in their classrooms.  The lectures given by ESA engineers and scientists working on the different programmes are really appreciated by the teachers. The astronaut talk is always a big source of inspiration!"
This is only the second year that European primary school teachers are given the possibility to participate in this workshop. Traditionally the focus has been on secondary school teachers, but ESA now recognises the importance of supporting primary school teachers in order to improve their STEM teaching.
A large array of recent scientific studies have demonstrated the importance of encouraging STEM learning at primary school level, as the process of inquiry that is central to STEM is actually the way young children learn and get inspired to learn. Young children explore, ask questions, and discuss their findings. In this age you can most certainly build fundamental skills and learn how to think and work scientifically.  Primary school teachers often have less resources in the classroom to teach STEM, and really appreciate using space as a fascinating and inspiring context for their lessons, helping their pupils develop these essential skills.
During the workshop, talks and practical sessions were tailored to both groups.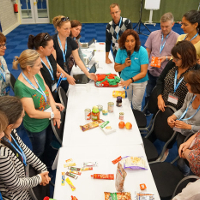 Teachers learning about food in space. Credit: ESA
"It's really nice for me to be in this workshop.  I'm getting lots of ideas for experiments in which the kids can learn and have fun at the same time, which is really nice," says one of the primary school teachers.
This year, each day had a separate theme, and keynote speakers were taken from the top levels of the Agency.
Day 1 was devoted to Earth observation, and kicked off with a lecture from Malcolm Davidson, Head of the Campaigns Section in the Earth Observation Directorate. The practical sessions that followed included one that showed teachers how space images of the Earth can be used, and how Earth observation helps us judge the 'health' of our planet.
Day 2 was dedicated to space exploration, and featured hands-on sessions on space food, the solar system, and the use of robots in space. There was a keynote talk on Exomars given by Elliot Sefton-Nash, Planetary scientist from the Directorate of Science, as well as an inspirational lecture given by ESA astronaut Leopold Eyharts, who talked to the teachers about what it's like to live and work in space and what the upcoming ESA astronaut missions are all about.
The final day of the workshop focused on satellites and rockets. The keynote speaker was Marc Toussaint, Ariane 5 GS Project Officer from the Launchers Development Department who talked about ESA's long experience in launchers, as well as the current and future developments regarding Europe's launcher capabilities. The day's practical sessions included the discussion of orbits, satellites, and sensors. It also introduced the secondary teachers to ESA Education's CanSat competition.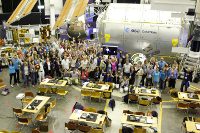 Participants at the ESA Summer Teachers' Workshop 2016. Credit: ESA
The CanSat competition encourages secondary students to build satellites that can fit into drink cans. Taking part in one of the European-wide CanSat competitions is a way for school children to gain hands-on understanding of how space missions are designed, built and tested, because the competitions follow the cycle of a real space mission.
"I had so much fun in this workshop and learned a lot. The keynote speakers were amazing. The activities are really going to help me deliver my lessons better, and I feel more confident now." commented one of the participants.
The workshop was not a one-off thing. Now that the teachers have returned to their home countries, they can still access follow-up resources and advice from the European Space Education Resource Offices (ESEROs) in the countries where they are in place. ESEROs are ESA's most important instrument used to support primary and secondary education across Europe.
The workshop's many sessions were delivered by ESA's Education team for primary and secondary education, and from ESERO staff across Europe. The role of the national ESERO offices was highlighted during the workshop, so as to let them know where to turn for more training, support, and information about how to use space as an exciting and inspirational context in their daily teaching.
Last Update: 1 September 2019