Euclid payload module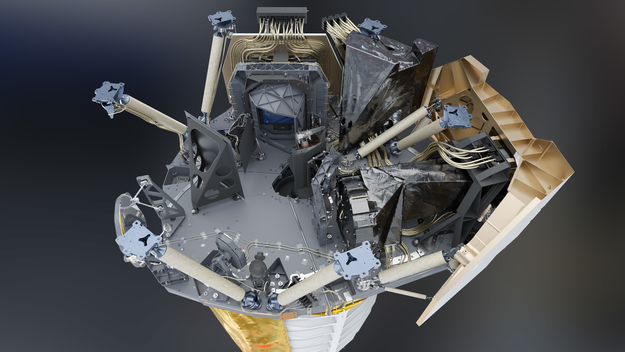 An upside down view, inside the Euclid payload module. A silicon carbide baseplate (grey) supports on either side the telescope and two instruments: the visual imager (VIS) is towards the top and the near-infrared spectrometer and photometer (NISP) is to the right. The telescope's primary mirror (M1) and secondary mirror (M2) are hidden from view and inside the white baffle with gold MLI, underneath the base plate in this orientation.
Light from the telescope comes through the hole in the centre of the baseplate, where two flat folding mirrors direct it to the tertiary mirror (M3), seen at the far left edge of the plate. The mirror directs the light to a dichroic filter that sits in front of the NISP instrument. Infrared light passes through the dichroic filter to the NISP instrument, while visible light is reflected to a third flat folding mirror, near the baseplate's front edge in this view, which directs the light to the VIS instrument.
Last Update: 1 September 2019