Lander Instruments
MUPUS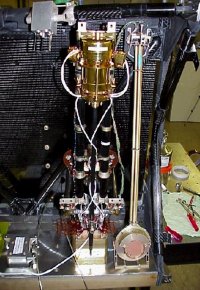 MUPUS penetrator (PEN and hammer)
The scientific objectives of MUPUS (MUlti-PUrpose Sensors for Surface and Sub-Surface Science) are summarised as follows:
To understand the properties and layering of the near-surface matter as these evolve with time as the comet rotates and approaches the Sun.
To understand the energy balance at the surface and its variation with time and depth.
To understand the mass balance at the surface and its evolution with time.
To provide ground truth for thermal mapping from the Orbiter, and to support other instruments on the Rosetta Lander (e.g. SESAME-CASSE).
Rosetta Blog articles

Last Update: 01 December 2015