Be an INTEGRAL astronomer: Report guidelines
In order to enter the competition you must do the following: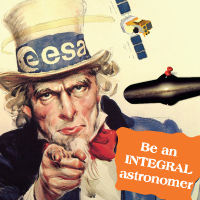 Perform the research activities described in the "Task" sections of the "Be an INTEGRAL astronomer: Your Mission" page.

Write a report [in English, maximum 2xA4 pages in 11pt font. Meaning that, when printed, the entire report answering all tasks, including figures occupies no more than 2 double-sides of A4 or 4 single-sides of A4] describing how you have performed the tasks and presenting your conclusions.When an astronomer prepares a report on their work it typically follows these rules:

Describe the object that is being studied.
Explain briefly what is already known about this object.
State what the objective of the research was.
Describe the research that was done.
Present the results.
Discuss the meaning of the results and draw a conclusion.

Note that figures are almost always used as they are a powerful way of conveying information. Astronomers will also list the most important reference material that they used.

To submit your report click here. In addition to uploading your report you must provide the following information:
full name
country of residence
email address (this will be used to inform the winners)
title of your report
proof that you are a student (for winners only)
The competition winners will be notified by email in September 2009. The names of the winners will also be posted on the ESA International Year of Astronomy web site.

Last Update: 1 September 2019