Travelling waves in the Sun's corona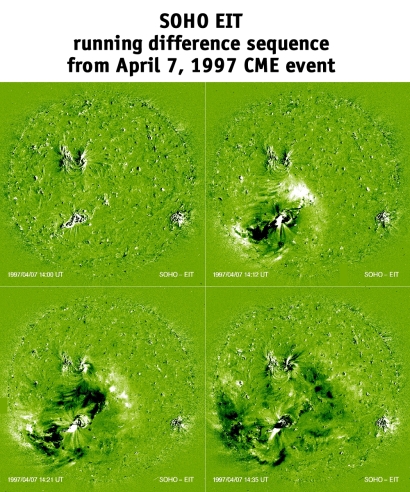 This sequence of images shows a wave propagating in the solar corona at a speed of about 300 kilometres per second. The four images have been taken over a time interval of just over half an hour. The moving wavefront is a result of a Coronal Mass Ejection (CME), a colossal eruption during which enormous amounts of gas are released from the Sun into outer space.
The images have been taken by SOHO's Extreme ultraviolet Imaging Telescope (EIT) at a wavelength of 195 Å, corresponding to the emission line of 11-times ionised iron atoms (Fe XII) and showing material at temperatures of about 1.5 million Kelvin.
This series of snapshots was taken on 12 May 1997.
Last Update: 1 September 2019