Wake up, Rosetta!
10 December 2013
Think it's tough getting up in the morning when the alarm clock sounds? Imagine what it must be like waking up 673 million kilometres from the warmth of the Sun and with no coffee. You might need some help...
How Rosetta wakes up from deep space hibernation. Credit: ESA/ATG medialab; music: B. Lynne. (Click here for further details and larger versions of this video)
Join the 'Wake Up Rosetta' campaign, an international video shout-out to celebrate the end of 31 months of deep-space hibernation endured by ESA's comet-chasing Rosetta. There are some fabulous prizes to be won.
Rosetta was launched in 2004 and has since travelled around the Sun five times, picking up energy from Earth and Mars to line it up with its final destination: comet 67P/Churyumov-Gerasimenko. For the coldest, loneliest leg of the mission, as Rosetta travelled out towards the orbit of Jupiter, the spacecraft was put into deep-space hibernation.
In 2014, Rosetta will complete its cruise towards the comet, rendezvousing with it in August, before putting its Philae lander onto the comet's surface in November, as it begins its journey closer to the Sun.
The time for Rosetta to wake up and prepare for this most exciting scientific adventure is now fast approaching. The spacecraft's internal alarm clock is set for 10:00 GMT (11:00 CET) on 20 January. Once it has warmed itself up, it should re-establish communication with Earth several hours later.
In a competition that opens today, ESA invites you to mark this important milestone in the Rosetta mission by sharing a video clip of you shouting "Wake up, Rosetta!"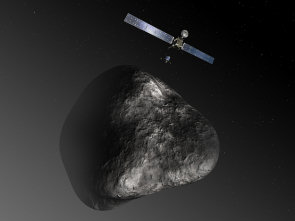 Rosetta and Philae at comet. Credit: ESA-C. Carreau/ATG medialab
You can upload your video clip and share it with the world via ESA's dedicated Facebook page.

Be creative and imaginative – you can include friends, family, colleagues, members of your team, social clubs, and school groups, or even put together a flash mob to create a memorable video shout.
Visitors to the Facebook page can vote on their favourite videos and compete to win some great prizes:
Each of the top ten videos will be transmitted with 20 000 Watts of power towards Rosetta and out into the Universe via one of ESA's deep-space tracking stations.
Each eligible participant submitting one of the top ten videos will receive a complimentary gift bag comprising a selection of ESA-branded souvenirs.
Two of the eligible top ten video authors will be invited to ESOC, our control centre in Darmstadt, Germany, for the VIP event celebrating the first-ever landing on a comet, in November 2014.
The campaign starts today and runs through until 17:30 GMT (18:30 CET) on 20 January. The two winning entries will be announced on 24 January, and the top ten videos will be transmitted into space in February.
ESA also invites you to join in the Wake Up Rosetta campaign via Twitter by following and shouting #WakeUpRosetta 'virtually' at @ESA_Rosetta. You can shout any time, but we're especially keen to see shouts on 20 January between 10:00 GMT and 17:30 GMT, during our dedicated Wake Up Rosetta event, which will be webcast from ESOC.
Once mission controllers have established contact with Rosetta, our @ESA_Rosetta Twitter channel will also wake up, making this the best immediate source for confirmation that the spacecraft is awake and ready for the final leg of its epic journey.
More information about the event on 20 January will be provided soon.
In the meantime, join us in helping to Wake Up Rosetta!
Competition details, terms and conditions
Rules and conditions apply. The Wake Up Rosetta competition will accept entries until 17:30 GMT, 20 January 2014. Voting opens today and closes at 13:00 GMT on 24 January 2014. Contest is open to all, but prizes can only be won by citizens and permanent residents of ESA Member States, ESA Cooperating States, EU countries and the USA. Participants must be 13 as of 10 December 2013 to take part. Read complete terms and conditions here.
About Rosetta
Since its launch from Europe's spaceport at Kourou on 2 March 2004, Rosetta has travelled out to a distance some 800 million kilometres from the Sun and close to the orbit of Jupiter, passing by Earth three times and Mars once, and flying past two asteroids. It is now closing in on its destination, the enigmatic comet 67P/Churyumov-Gerasimenko, as it begins to move closer to the Sun.
Rosetta will arrive at 67P in August 2014, where it will become the first spacecraft to orbit the nucleus of a comet and, later in the year, the first to land a probe – Philae – on a comet's surface. It will also be the first mission to escort a comet as it journeys around the Sun.
Comets are considered to be the primitive building blocks of the Solar System, and likely helped to 'seed' Earth with water, and perhaps even life. By studying the nature of the comet's dust and gas, Rosetta will help scientists learn more about the role of comets in the evolution of the Solar System.
(This article was originally published on ESA's Space Science Portal)
Last Update: 1 September 2019